Writings
Thathayya's Contribution to Journalism
Tatayya laid foundation for the modern era of journalism in Kannada language. It is of no surprise that he is called "Godfather of Kannada Journalism" owing his contribution in public service through journalism.
His writings were famous for its simplicity and straightforwardness and being influential at the same time. Tatayya was an intellect, very efficient, seasoned scholar and above all a very honest person. He had maintained discipline and practiced truth in public matters very strictly. During the Diwanship of Sri K. Rangacharlu in the state of Mysore, citizen friendly democratic policies were formed and implementation of the same was planned. Venkatakrishnayya started the weekly magazine "Vrittanta Chintamani" in the order 1885 to support the initiatives of Rangacharlu which became a grand success. After this he started many newspapers in the languages of Kannada and English.
Some of the Kannada magazines started and Promoted by Thathayya were :
'Hita Bodini',
'Vrittanta Chintamani',
'Sampadabhyudaya',
'Sadhvi',
'Paura Samaajika Patrike'
In Englsih:
'Mysore Patriot',
'Wealth of Mysore',
'Nature Cure'
'Mysore Herald'.
Out of these 'Mysore Herald' was very well acknowledged by the public as it published some of the finest quality write-ups and articles.
Sri VenkataKrishnayya considered journalism as one of the prime objectives of his life and dedicated his last few years in the activities which nurtured journalism expertise in Kannada language. It can be said without doubt that VenkataKrishnayya was the sole reason for the current state of journalism. He encouraged young writers and journalists to take up higher responsibilities. He was more inclined towards grooming youngsters for the growth of journalism as a wholesome profession. Among those who got VenakataKrishnayya's patronage were brothers M. Gopalakrishna Iyengar and M. Srinivas Iyengar. They also started a weekly magazine titled 'Kannada Nadegannadi' in Bangalore in 1895 which went on to become a popular one among its readers. They also started a biweekly called 'Mysore Standard'. These brothers are said to be the pioneers in adopting journalism as source of their livelihood. This was the kind of encouragement they were blessed with from Sri Venkatakrishnayya.
In 1908, a regulation was passed by the Mysore Court of Law to weaken the independence of the press which is involved in criticizing the Government administration and providing support for the national movement. This kind of dominant approach from the Government was strongly opposed by the media people of Mysore. A meeting was held under the leadership of Sri VenkataKrishnayya and it was decided to terminate all Kannada magazines and newspapers as a disagreement with government's dictatorship behavior. VenkataKrishnayya happened to meet Diwans personally and made them realize on the negative implications of the regulation passed. He also explained how the rule is going to curb rights and responsibilities of the citizens. The government and its administrators did not yield to any of these arguments nor did the public. Hand written pamphlets highlighting the loopholes in the administration reached common man; these were used as weapons to break control of administration. The rule was active for 2 years which turned out to be a self-disaster for the government. Press and, media became active in the cities of Bangalore and Mysore later on. Sri VenkataKrishnayya was leading the movement by starting 'Sadhvi' magazine in 1911.
Sri VenkataKrishnayya had a strong belief and recommended that journalism should be made a part of the university curriculum. He also provided complete support to Mysore University by depositing Rs 2000 as a permanent fund, to be used for providing scholarships to the students for successful achievement in the field of journalism. His dream became true in the year 1951 when journalism was offered as an optional subject for the grade of Bachelor of Arts. The scholarship is being awarded in the name of "Grand old man VenkataKrishnayya's award for Journalism" for the outstanding performers every year till date. Venkatakrishnayya's selfless service and entrepreneurship in the birth and fruitful growth of journalism entitles him to be aptly honored as "Godfather of Kannada Journalism".
Tatayya's Literary service
Sri Venkatakrishnayya's contribution to the field of literature was of no small value. He was like a bundle of light in the field of education, source of inspiration in the public service and a self-proclaimed torch bearer in politics. He actively participated in the engagements of one of the oldest literary institutions of Mysore 'Literary Union'.
He was able to write amidst his busy public life and published too successfully. Sri Venkatakrishnayya was honoured by Kannada Sahitya Parishad on his commendable service in the field of literature. He was appointed the President of Kannada Sahitya Sammelana in the year 1922 held at Davanagere.
Sri Venkatakrishnayya's works are off the record as there is no complete data available. Exact details on the number of books published and thoughts on reprint of those works are hardly available. Following works are found to be available :
Arogyanidhana Prakashike(1896),
Dhanarjaneya Krama(1897),
Choragrahana Tanthra(1897),
Harischandra Charitre(1897),
Telemakassina Sahasa Charitre : part 1(1909),Part 2(1920), Part 3(1933),
Booker T. Washington ravara Charitre (1919),
Vidyarthi Karabhooshana (1922),
Ma|| M. Venkatakrishnayyanavara Jeevana Charitre (1929),
Shreeraama mahime (1929)
Apart from above 11 books, he had authored 4 more books as listed below, though date of publication is unknown.
Deshaabhimana,
Parantapa vijaya,
Sumathi Madanakumara Charitre,
Baalabhodhe
The sad part is that none of these works are hard to find off late. And no publisher is coming forward for reprint of these works. Some ray of hope is that his works were studied and opinions were published in the magazines – Vidyadaayini, Kannada Sahitya Parishatpatrike. We wish atleast from now on his works to be reprinted in the form of composite volumes which will help introducing Venkatakrishnayya to today's world. This will definitely help in creating awareness about his achievements and contributions to the field of literature.
Tatayya was always on the battle field in the fight against British ruling and actively participated in India's independence movement. He fought as a true soldier through his press articles. He went onto write in the English version of Sampadabhyudaya that "India as a country acknowledges the advantages brought in because of British administration. At the same time India memorizes with utmost agony the injustice done by British Empire. How is it possible that India embrace the boot which is kicking her? India has become weak ruined of its wealth and reached a begging state under the ruthless British ruling". He also preached that "merciful dictatorship is better compared to heartless democracy". Tatayya used to express in his press articles the opinions honestly with no favoritism and his views were unbiased. He also was instrumental in the growth of Kannada Sahitya Parishat, which was started in the year 1915. His writings played a vital role in creating awareness about independence, eradication of illness prevailing in the society. Tatayya's writings were educative for the common man whereas they became nightmares for the ill-function bureaucrats.
News and Events
Event 01
Thathayya birthday celebration and Website Launch about Thathayya at Sharadavilas Auditorium, Mysore on 11.5.2011. Read More
Gallery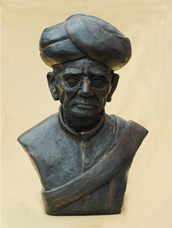 I hold a great respect in my heart for Sri Venkatakrishnayya's efforts towards Public Service, eradication of discrimination among poor and backward classes of the Soceity. I would like to bestow upon him the title of 'Bheeshma of Mysore'.

– Mahatma Gandhi
I am not secluded from the group of admirers who respect, appreciate Sri Venkatakrishnayya's Patriotism, Public service and selflessness in contributing his life for the betterment of Soceity.

– Sir. M.Vishweshwarayya
Shri. Venkatakrishnayya is well known for his social activities in mysore and his dedicated life. He has done yeoman`s service for in the field of social service and education.

– Late Sri Chamaraja Odeyar, Maharaja of Mysore
If it be proper to regard the spiritual value of a thing as higher than all its other values, it should be no exaggeration to describe Sri M. Venkatakrishnayya as the greatest among the patriots of modern Mysore.

– Dr.D.V.Gundappa (DVG)
The Anathalaya website